Our Beers
With at least 10 local house beers and 2 local guest taps, we offer our brewery's finest. Anything from an IPA to a Stout to a Wit, we have just what you desire and something that might become your new favorite. Enjoy a pint or create your own flight! For the non-beer loving fan, we have local hard cider from Kekionga and a variety of local wines. For our updated On Tap Menu, click here.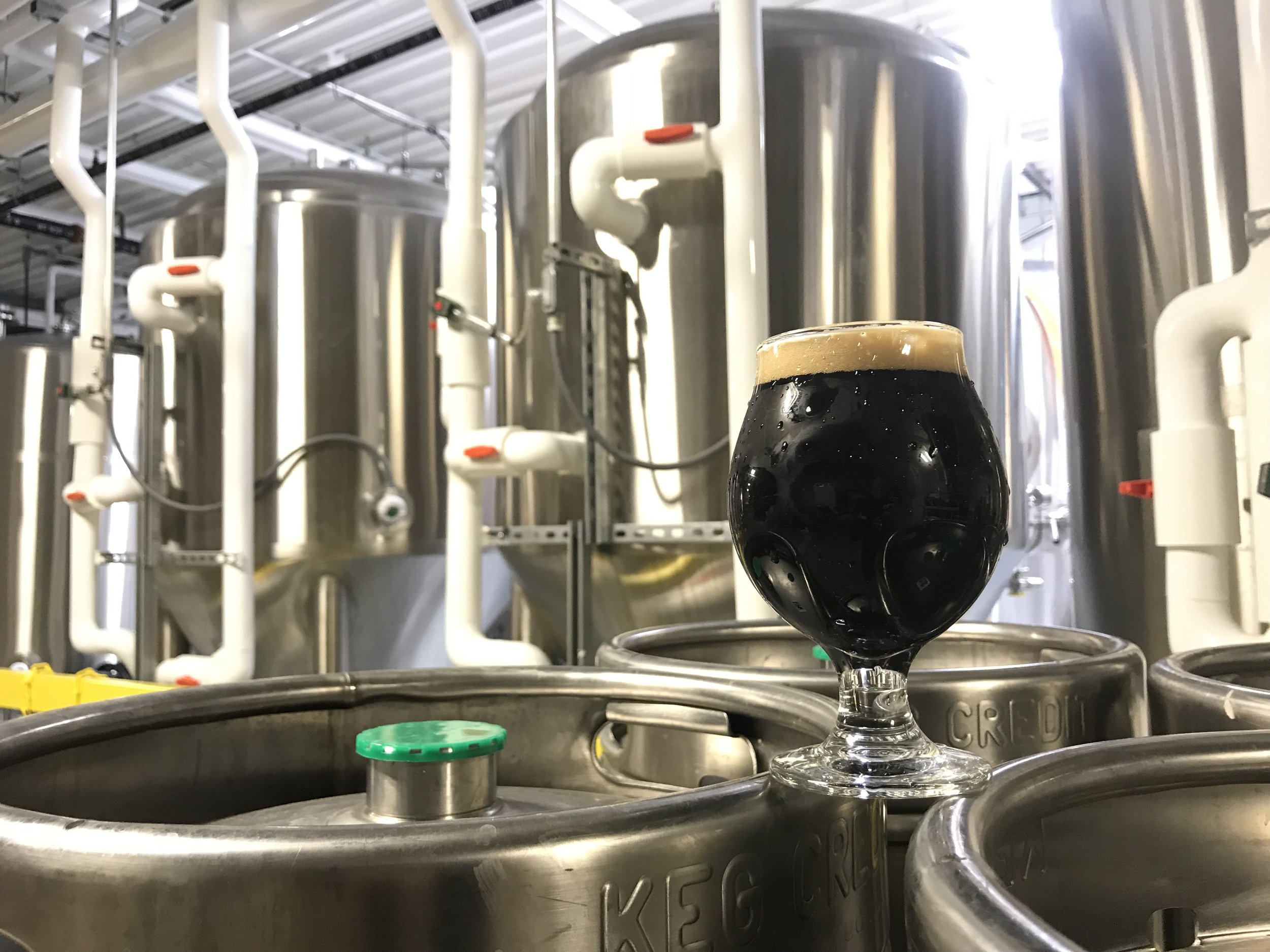 Kolsch | Light German Ale 5.4%
A classic easy-drinking German ale, crafted in the traditional style with imported European ingredients. A refreshing and delicate pint that looks like the beer your dad drinks but tastes like something your younger cousin would share.
Lasers in the Jungle | IPA 6%
A modern India Pale Ale brewed with two new school American bred hops-Mosaic and Citra.Bitterness is overall low; while the aroma is complex and tropical.
Midnight Retreat | Imperial Stout 8.5%
Extremely dark, with a thick tan head, this big guy can sneak up on you. Dark chocolate, roasted coffee, stone fruit, and other mysterious flavors live in this dark world.
Harrison St. Wheat | Hefeweizen 4.8%
Wheat gives the summertime beer its cloudy appearance and luscious texture. The light banana and clove aromas originate from a traditional German yeast strain. Gold Medal winner at the 2018 Indiana State Brewers Cup Competition.
Alt Bier 4.8%
Altbier has been the frienemy to Kolsch for generations. This copper colored German Ale is light bodied and very crushable with a smooth but assertive hop bitterness, balanced by subtle caramel malt flavors.
Billable Hours | IPA 7.5%
A bigger and more bitter India Pale Ale. Brewed with a classic west coast hops for heavy pine aroma and light woodsy-pine flavor.
Magnitude 6 | Pale Ale 4.8%
A tasty and easy to get along with pale ale. Light and dry, with a moreish aroma.
Two Truths and a Rye | Red Ale 6%
We pair Munich and Caramel malts for a deep malty flavor reminiscent of the Irish and Scottish inspired red ales brewed by many older American brewpubs. Our take adds rye for a subtle spicy aspect.
Time & a Half | Double Dry-Hopped Double IPA
Inspired by our Billable Hours IPA, but brewed with mid-west grown hops for a more tropical nose of pineapple, papaya, pithy orange peel, pine needles, and succulent tree sap. 8.4%
Only Pilsner | Pilsner 5.5%
A bold and flavorful lager, made with wholesome Czech-grown pilsner malt and Saaz hops. Floral aroma and bitter hop bite, with a soft and fulfilling malt subtext.
Maestro | Vienna Lager 5.8%
An elegant European lager. Slightly sweet—with a deep, bready malt held in equilibrium by light, noble hops—followed by a dry, satisfying finish. Gold Medal and Best in Show Runner Up winner at the 2018 Indiana State Brewers Cup Competition.
Driving Miss Mandy | Dry Hopped Extra Special Bitter: 4.25%
Hop forward, with a floral—almost springtime garden—earthy aroma; dry biscuit and pretzel malt; light fruit character from a very English yeast, bordering on apricot and cherry. An essential session beer you can share all day long. 4.25%
Countess Markievicz | Irish Stout 4.8%
Named for Constance Markievicz, revolver wielding Irish stateswoman and revolutionary hero. Dry and roasty, with an attractive coffee aroma, tan head, and silky-smooth mouthfeel.
Double Agent | Rye Saison 5.8%
A non-traditional Belgian ale brewed in collaboration with Junk Ditch Brewing Company. Ruby complexion; super complex nose of bubblegum, peppercorn, and spice; with soft, sweet finish.
Hurly Burly | Scottish Ale 7.5%
A malt-forward ruby-red beauty with significant caramel flavor. Brewed with imported Golden Promise malt by a patient brewer, this is a rich, boozy friend.
Terry's Wit | Wit Beer 4.75%
Belgian wheat beer with fresh-ground coriander and organic orange peel. Bright, spicy, and packed with effervescent citrus.
Fat Bob's Porter | Porter: 5.6%
A rotund and substantial full-bodied ale. Light caramel playing with dark chocolate and a hint of citrus—like a rare x-mass candy. 5.6%
Science is Pleasure | East Coast Pale Ale – 5.5%
A pillow-soft parachute landing onto Carmen Miranda's hat. Bright grapefruit, lemon peel, and pineapple from a wild assortment of tropical hops—balanced atop a full, silky mouthfeel and light sweetness.
Oktoberfest Bier | Marzen 5.75%
Drink this in a tall stein, at a long table of new friends, while you sing and shout. Orange color, medium body, almost mythical malt complexity—but very, very drinkable.
Quantum Entanglement | Hoppy Wheat Ale – 4.25%
Crushable hop forward summer ale boasting a complex aroma of tangerine citrus, white grape, and mildly dank pine needles. Lots of raw, unmalted wheat for a bold, grainy texture and rocky white head.
Greater Heron | Doppelbock: 7.6%
The darkest ruby yet, wading through caramel, toffee; sweet nuts and herbs; complex cake, burnt sugar, and grandma's toasted bread.
Sleepyhead | IPA: 6.75%
Looks like an unhurried sunrise and smells of famished fruit breakfast: pineapple, tangerine, and lemon. Tastes like my most bitter knife, dulled by soft wheat. Brewed with local Midwest harvested hops.
FrankenBrew | Stout
Science! Brewed for Frankenbrew, in collaboration with the Science Central Lab. A thick, flavorful stout, showcasing coffee and chocolate malt flavors, bursting with earthy English hops.
Trail Mix | IPA
A Northern IN Beer Trail collaboration, this hazy, hoppy wheat beer explodes with tropical and citrus aroma from lots of mid-west grown hops.
Perseid | Red Ale - American Amber / Red 6%
Amber ale infused with Mt. Hood hops for an earthy, resinous nose. Reminiscent of an autumn leaf pile.
Another dry hop special release only available in our taproom. Because that's how we do it!
Sidereal Ambet aged in Three Rivers Distilling Bourbon barrels. Strong boozy flavor haunted by an autumn leaf-pile-like hop bite. Charismatic ruby color and charm.
Cowboy Coffee | Porter: 5.6%
A cowpoke favorite: porter hitched to Fort Wayne's Conjure Coffee coldbrew. Good morning and goodnight. 5.6%
Indiana Pilot Ale (InPA) | IPA: 6.5%
A small batch pale ale with Indiana grown Cascade and Tahoma hops. Strong pine and cut grass; some autumn garden flavors mixed with hints of citrus fruit, all over a robust malty sweetness. Limited Release 6.5%
Star Stuff | Pale Ale: 4.8%
Some more Magnitude 6, boasting a dry hop charge of Polaris for a pungent, floral, slightly minty experience.
This Room's Elephant | Pale Ale: 4.8%
The above pale ale dry hopped with Chinook for a dank kick.
Darkest Midnight | Stout - American Imperial / Double 9%
Our flagship Imperial Stout aged in Three Rivers Distilling Company bourbon barrels.
Redheaded Step Moon | Imperial Stout: 8.5
A little bit of ginger, roasted and reduced, for that warm mule-kick. Limited Release
The Three Hopmigos | Pale Ale: 4.8%
Mag 6 with a posse of German Mandarina Bavaria, Japanese Sorachi Ace, and New Zealand Motueka for an international citrus flair.
Unemployment Benefits | Triple Dry-Hopped Double IPA
Even more hops? Yes, even more hops. Limited Release 8.4%
Violet! You're turning violet, Violet! | Flavored Oatmeal Stout: 4.8%
I've tried it on, like, twenty Oompa-Loompas and each one ended up as a blueberry. It's just weird. 4.8% abv, very limited release
Robert's Refined | Porter 5.6%
Fat Bob's Porter fresh from some Three River's Distilling whiskey barrels. Boozy and sweet, backed by bitter chocolate and plenty of smooth barrel character.
Overdraft | Double IPA 8.4%
Time and a Half Double IPA aged in Three Rivers Distilling whiskey barrels, then dry hopped yet again. Lots of earthy oak followed by bitter herbs and pithy orange peel.
Are We Still Friends? | Belgian Pale Ale infused with Hibiscus & Grapefruit Peel – 4%
The quiet flavor of canned peach syrup—quickly overpowered by bitter grapefruit pith. Limited Release.
Better in Color | Hazy IPA – 6.5%
Starts soft and sweet with wheat and a pulpy lemon flavor. Finishes loud and bitter: a dare to take another sip. Made with love and help from our taproom staff, to celebrate Fort Wayne Pride. Limited Release
Do-Si-Do | SMASH Blond Ale – 6%
Western inspired single-malt-single-hop made with Mt. Hood hops and Idaho grown and malted Pilsner. Light biscuit, a hint of refined sweetness, and the aroma of pinning a fresh boutonniere to an eager dance partner's chest.
Local Realism | Dry Hopped Pale Ale – 4.3%
Vivid pineapple, citrus, and fizzy white-wine bloom from this extra dry hopped edition of Quantum Entanglement.
Chronic Sunshine | Pale Ale
Lovely biscuit and cracker malt supporting a floral, slightly grassy hop presence. Crafted by our newest brewer Dustin L. Stephens.
Skunk Works Project No. 13K | Kettle Sour 4.2%
Our latest collaboration with Junk Ditch Brewing: a kettle sour infused with pink peppercorns and fresh picked rosemary. Tart, funky, with light citrus, herbs, and spice. Extremely Limited Release
When I get Low | Single Malt, Single Hop IPA – 6%
Golden Promise malt for toasted bread and Nelson Sauvin hops for wine-like concord-grape weirdness. It's kind of burnt, but sweet and dank and inviting at the same time. You might not like this—more for me—I've warned you. Limited Release
Downtown Leroy Brown | American Brown Ale - 5%
The smoothest-talking brown ale that you're likely to meet: chalky malt, toffy, light chocolate, and bitter herbs. Finishes clean and dry for summertime drinking. Limited Release
Summer Friends | Black IPA – 7.7%
An August herb garden of hops: mint, basil, grass, and licorice. Dark color, dark flavor, like sweet and mildly burnt coffee. Limited Release.
Hakuna | American Pale Ale - 6%
Showcasing some experimental hops (HBC 522 and HBC 568), this dank pale ale tastes of lemon, berry, grass, and herbal noble hops. Brewed with Idaho grown and malted pilsner and raw wheat for light color, body, and sweetness. Available only at Brewed IN the Fort and the Hop River Taproom.
Matata | American India Pale Ale - 6.5%
A ruby hued and malty IPA, with bitter hop flavors grapefruit rind and fleshy fruit. Down to earth and amiable. Available only at Brewed IN the Fort and the Hop River Taproom.